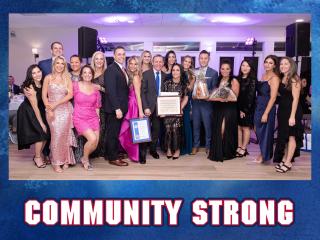 LEF Honors DJD
DJD Honored by the Linwood Education Foundation
The Linwood Education Foundation recognized DJD as this year's Community Honorees at the annual LEF Gala for Education. LEF is a community-based cooperative effort organized to identify, secure, and distribute resources to supplement and enhance the quality of education in Linwood Public Schools.
This year's Gala was a spectaculat event, thanks to the hard work of the LEF members, and with the support of so many community members and local businesses, an evening of fine dining and entertainment was enjoyed by all those who attended.
We are proud to be honored with this distinction. For more 15 years, D'Arcy Johnson Day has been regarded as leaders and known for results, both inside and outside the courtroom. The firm is known for its high-profile cases, such as the lawsuit that helped intensify the investigation into the murder of April Kauffman and the case that shone a spotlight on the treatment of injured professional athletes. However, DJD has also handled matters that may not have made headlines, but nevertheless have made a huge impact on the people involved – people like the police widow who, with the firm's help, received past due workers compensation benefits nearly 46 years after her husband was killed in the line of duty. DJD regularly takes on drug companies, neglectful nursing homes, and other corporate behemoths to advocate for those who need protection. The firm's clients have shown their appreciation, recognizing DJD with the Best of the Press Gold Award in the legal services category for nine consecutive years.
D'Arcy Johnson Day's professional commitment to fight for justice is matched by its dedication to help the community. Each year, the firm has supported hundreds of local sports teams, schools, charity events, and nonprofit organizations with financial donations, sponsorships, and volunteer hours. From supporting a fundraiser to purchase new beds for a veterans nursing and rehabilitation facility to sponsoring multiple National Night Out events throughout Atlantic County, DJD can be counted on to make a difference. After reviewing the firm's extensive list of charitable efforts and the enthusiastic nominations submitted by at least a dozen nonprofit organizations, the Press of Atlantic Citynamed the firm the winner of the 2017 Bailey Award.
D'Arcy Johnson Day's philanthropic activities have not slowed since the firm received the Bailey Award. From sponsoring events that benefit the Donny Fund and the Hope Exists Foundation to honoring our local heroes by supporting the Atlantic City Police Athletic League, the John R. Elliott Hero Walk, the Wildwood Fire Department, and Tunnel to Towers Foundation, the firm remains committed to making an impact in the community. Supportive of area schools and educators, DJD sponsored numerous school activities and sports teams, donated Christmas gifts to families of a local middle school, and helped a local high school fund its first senior trip in 20 years. Whether they are helping clients who need a strong advocate in their corner or helping the organizations that support and shape our communities, D'Arcy Johnson Day is the perfect example of Benjamin Franklin's advice to "do well by doing good."